Educational success, reimagined.

---
Timeline

Jan. 2022 - Jan. 2023
(1 year)
Tools

Zoom
Google Drive

Email/phone

Squarespace

Adobe Illustrator
Adobe XD
Adobe InDesign
Role

Web Design
Video Production
Prospectus Design
Copywriting
Team

CO-FOUNDER AND PRESIDENT
Stephanie Santoso
CO-FOUNDER AND CEO
Colin Lacy
ART AND DESIGN CONSULTANT
Michelle Zamora
About MakerUSA

MakerUSA is a 501c3 Nonprofit whose goals is to unlock the potential of students living in marginalized communities in order to fundamentally change their direction, across everything from social mobility and racial equity to economic competitiveness, the environment, and national security. The organization aims to do this by leveraging making, skills and project-based learning as the vehicle to drive success.
My Why

Embedded in the maker ecosystem, I have a clear vision about maker-centered learning and community building in this space. Empathizing with Steph and Colin's mission, I wanted to help shape their vision into crystal clear communications in order to raise funds and grow their network.
Outputs

Recognition

2022 NACCE Conference Speaker

---
GOAL
To strengthen the maker ecosystem across America.
With my experience launching the Sacramento City College Makerspace and producing the CCC Maker video series, MakerUSA enlisted my help to create a series of visual communication assets that would amplify their voice, accelerate, and grow their network.

Student working on a project at the mobile STEAM Truck event at the Global Center for Digital Innovation in Chattanooga, TN, April 2022






CHALLENGE
Our team is well seasoned in the world of makers, makerspaces, educational institutions, and initiatives. Santoso served as the first Senior Advisor for Making at the White House Office of Science and Technology Policy, under President Obama's Nation of Makers initiative, and Lacy's experience includes over ten years of leading entrepreneurial efforts in the education equity field. As a startup with a non-traditional business model in the early stages of funding, we needed to clearly communicate MakerUSA's why to stakeholders, and fast.

Design workshop with Bayview Makers Codesign in Bayview, CA, August 2022






APPROACH
Local approach, national perspective.
As momentum picked up, we asked ourselves, "How do we understand makerspace ecosystems, and how might we best communicate them to stakeholders and potential funders?" We started by connecting with leaders across the country to make a video that told MakerUSA's story.
Along with the founders, I interviewed Dr. Fabiola Riobe from Rockland Community College in New York and Dr. Ron Williams from Coppin State University in Baltimore, who spoke about the impact of college makerspaces on students and their effectiveness at developing community.
SOLUTION
Inspired and authentic marketing.
In collaboration with the founders, I designed a website to clearly communitcate MakerUSA's mission, vision, and goals. In addition to the site, we developed a Prospectus to share with potential funders and to submit as part of grants and initiative proposals. This piece was essential in telling funders who we are, what we do, and why we do it.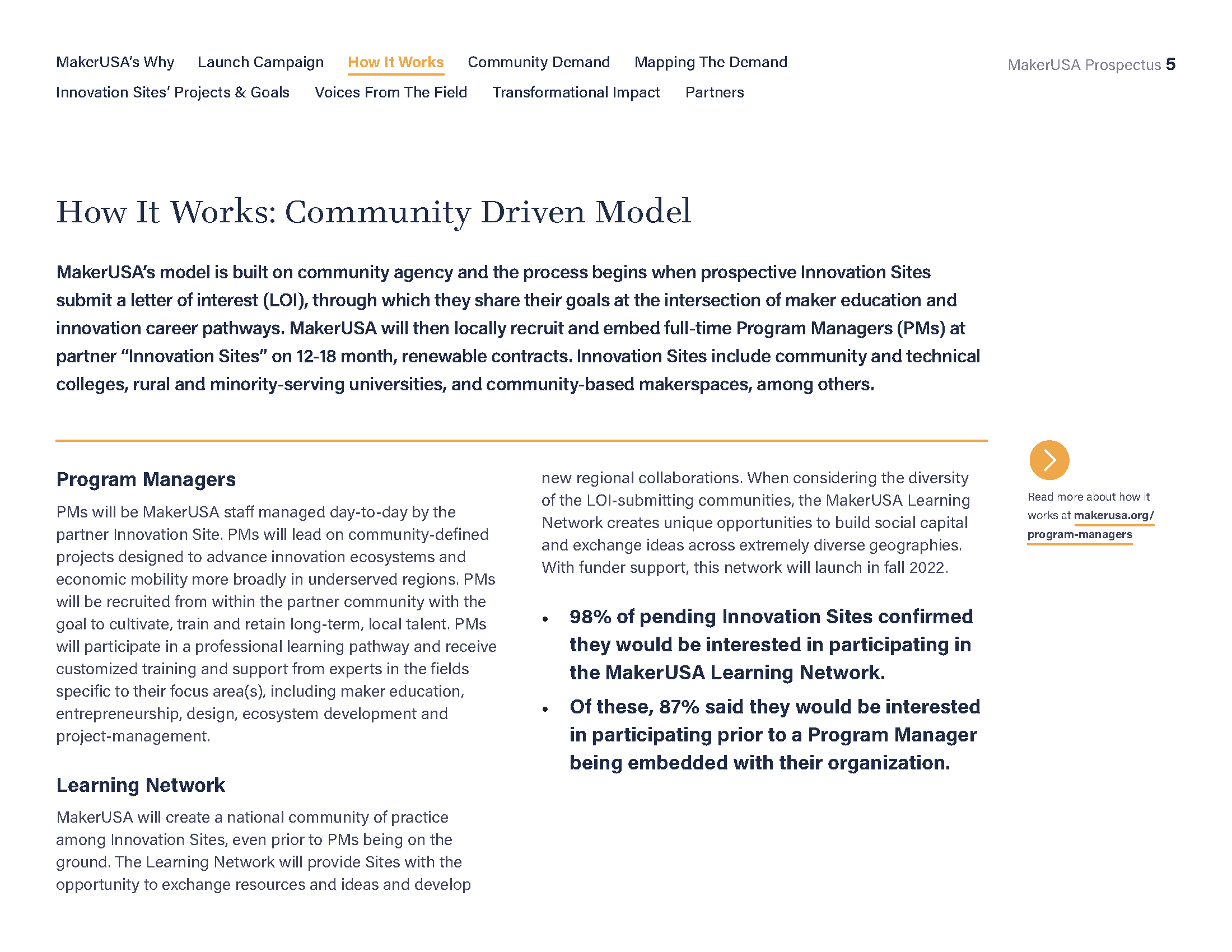 Community Demand Resonse, MakerUSA Prospectus 2022-23
RESULT
A bright future for innovation and entrepreneurship.
MakerUSA is rapidly growing with two new full time employees, a highly acclaimed advisory board, the launch of the Learning Network program, and continued funding from trusted investors like the National Association for Community College Entrepreneurship (NACCE), Arconic Foundation, and Genentech. With clear visual assets, MakerUSA will continue to grow and expand their network across the US and beyond.